Why work with us?
T.A.C.T. of North Atlanta uses highly trained technicians and proprietary cleaning chemicals, making us the most reliable biohazard and hoarding clean up company in the industry. No matter how big or small the job is, we are ready and available 24/7 to help when you need us.
We specialize in biohazard and hoarding clean up, as well as many other types of jobs in North Atlanta, GA. When you need fast service, and a responsive company that genuinely cares, you need T.A.C.T.
Our Mission
Our main priority is responding promptly when you call and returning your home or business to a safe environment as quickly as possible.
T.A.C.T. employs decades of experience and acts with sensitivity and discretion to your situation, as you deal with  extremely difficult issues.  We provide emergency professional services after traumatic events such as, suicides, unattended or undiscovered death, contagious disease contamination (COVID-19), injuries, hoarding situations, and other biohazard environments. 
Contact us here for
immediate response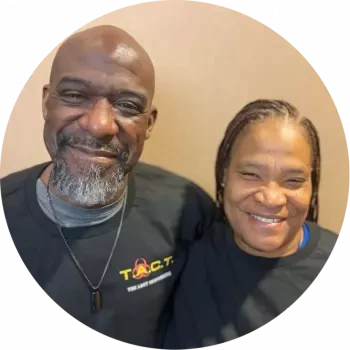 Brandon and Terry Martin,
owners of T.A.C.T. North Atlanta, are a husband and wife team and long-time Atlanta residents. With over 30 years of experience in the cleaning and customer service industries. They offer home and business owners in the North Atlanta area a comprehensive solution for extreme cleaning needs, including cleanup from suicide, homicide, unattended death, hoarding (including pet hoarding), odor removal, rodent feces clean up and sanitizing, decontamination of contagious pathogens, such as COVID-19, drug-lab clean up, construction and renovation clean up, mold remediation, and more. 
T.A.C.T. North Atlanta is a registered biohazard remediation company with the State of Georgia and members of the Atlanta Apartment Association. T.A.C.T. North Atlanta is locally owned, certified, licensed, bonded and insured, and can assist you 24/7, 365 days a year. T.A.C.T. offers both emergency and non-emergency services for residential and commercial property owners. When you call T.A.C.T. North Atlanta, you will speak directly with an owner, never a call center or answering service. T.A.C.T. North Atlanta guarantees a fast response, and will discreetly and efficiently handle your situation. Get in touch for your free quote today.