Intro
T.A.C.T. of North Atlanta uses highly trained technicians and proprietary cleaning chemicals, making us the most reliable biohazard and hoarding clean up company in the industry. No matter how big or small the job is, we are ready and available 24/7 to help when you need us.
We specialize in biohazard and hoarding clean up, as well as many other types of jobs in North Atlanta, GA. When you need fast service, and a responsive company that genuinely cares, you need T.A.C.T.
Our Mission
Our main priority is responding promptly when you call and returning your home or business to a safe environment as quickly as possible.
T.A.C.T. employs decades of experience and acts with sensitivity and discretion to your situation, as you deal with  extremely difficult issues.  We provide emergency professional services after traumatic events such as, suicides, unattended or undiscovered death, contagious disease contamination (COVID-19), injuries, hoarding situations, and other biohazard environments. 
Contact us here for
immediate response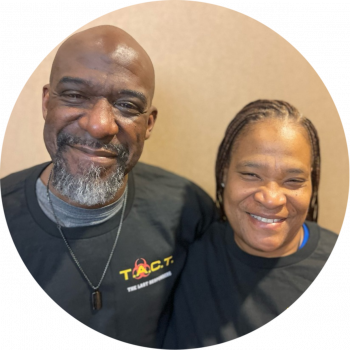 Brandon and Terry Martin have lived in Atlanta for over 17 years. Before starting T.A.C.T., the Martin's have had a long history in the cleaning and customer service industry. They wanted to open Atlanta's first T.A.C.T. location because they want to improve the lives of their clients and contribute to the improvement of their community. Which coincides with T.A.C.T.'s mission statement to use skill and sensitivity in dealing with difficult issues, help people during the most difficult situations in their life so they can embrace tomorrow and change lives. This is our purpose. This will be our legacy.