Residential Cleaning vs. Biohazard Cleaning: Understanding the Differences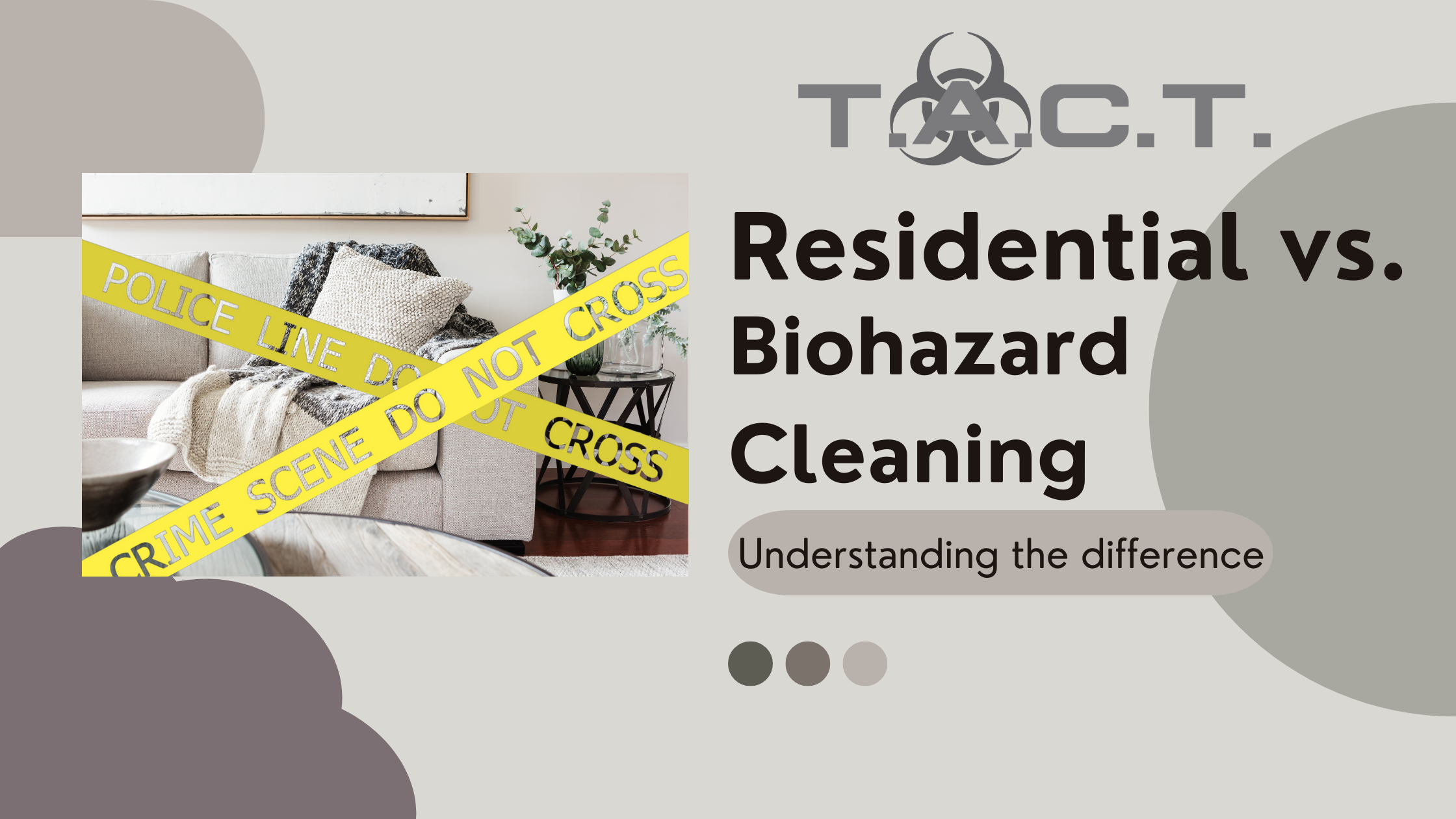 When it comes to cleaning, not all tasks are created equal. Whether you are tidying up your home or dealing with a more serious issue, like a biohazard, understanding the differences between residential and biohazard cleaning is crucial. Here, we'll delve into what separates these two types of cleaning, and highlight how professional companies like T.A.C.T. North Atlanta provide specialized biohazard cleaning services.
Residential Cleaning: An Overview
Residential cleaning typically involves regular upkeep and maintenance of a home. This can include tasks like dusting, sweeping, mopping, vacuuming, bathroom cleaning, and kitchen cleaning. The goal here is to maintain a pleasant and sanitary living environment.
1. Methods and Materials: Residential cleaning employs common cleaning products and methods that are safe for home use.
2. Frequency: Typically performed on a regular basis, whether it be daily, weekly, or bi-weekly.
3. Specialization: While some professional residential cleaners may specialize in certain tasks, such as window or carpet cleaning, the overall approach is general.
Biohazard Cleaning: A Specialized Task
Biohazard cleaning, on the other hand, deals with potentially dangerous substances and requires specialized skills, training, and equipment.
A biohazard refers to a biological substance that poses a threat to the health of humans, pets and the environment. This can include a variety of substances such as blood, bodily fluids, chemical residue from drug use or manufacturing, viruses, bacteria, toxins, and other pathogens that can cause diseases and infections.
Biohazards are categorized into four levels, ranging from Level 1, which includes agents that pose minimal threat to humans and the environment, to Level 4, which includes agents that pose a high risk of life-threatening disease for which there may be no available vaccines or treatments.
Examples of biohazards could include:
Human Blood and Blood Products:

This includes items that have been contaminated with human blood, like needles or other medical equipment.

Animal Waste:

This includes animal carcasses and waste that might be contaminated with disease-causing organisms.

Microbiological Waste:

This category includes laboratory waste that has come into contact with infectious agents.

Pathological Waste:

This includes human organs, tissues, and body parts that are being discarded.
Biohazard cleaning involves the proper cleaning, sanitization, and disposal of materials that have been contaminated with these biohazardous substances. It requires specialized training, equipment, and adherence to strict guidelines to prevent the spread of diseases and to protect those who are tasked with cleaning the contaminated areas.
1. Materials and Methods: This type of cleaning demands specific chemicals, tools, and procedures to properly neutralize and dispose of biohazardous materials. These might include human or animal remains, medical waste, drug residue, or sewage.
2. Frequency: Biohazard cleaning is usually performed on an as-needed basis, and often in response to an emergency or specific incident, such as suicide, homicide, blood spills, illness or hoarding.
3. Specialization: Due to the serious nature of the materials involved, biohazard cleaning requires trained and certified professionals who adhere to strict guidelines and regulations.
T.A.C.T. North Atlanta: Professional Biohazard Cleaning Services
With the complexity and dangers associated with biohazard cleaning, it's essential to have skilled professionals handle the job. T.A.C.T. North Atlanta is a leading provider in the region, offering professional biohazard cleaning services that are compliant with all relevant laws and regulations.
Our team of highly trained and experienced technicians is equipped to handle a wide range of biohazard situations, ensuring the safety of everyone involved. We follow strict protocols and utilize specialized equipment to deliver high-quality service.
While residential cleaning is focused on maintaining the cleanliness and aesthetics of a home, biohazard cleaning is a highly specialized field requiring expert knowledge, skills, and equipment. It is essential to understand these differences, especially when faced with a situation that requires specialized attention.
By employing a professional company like T.A.C.T. North Atlanta, you ensure that biohazard cleaning is carried out with the utmost care, adhering to all safety guidelines and standards. Whether dealing with a routine home cleaning or a complex biohazard situation, knowing the difference and choosing the right service provider can make all the difference in the world.
For biohazard cleaning in the Atlanta area, including blood, bodily fluids, animal waste, hoarding, mold, and drug residue, contact T.A.C.T. North Atlanta. We offer 24/7 emergency services and are locally owned and operated. T.A.C.T. North Atlanta is licensed, insured and registered with the State of Georgia as a biohazard remediation company.
License # TSWM-CO000027
T.A.C.T. North Atlanta provides 24/7 emergency biohazard decontamination services for residents and businesses in the local communities that we serve. We specialize in clean up from suicides, homicides, crime scenes, trauma scenes, undiscovered death, blood spills, bodily fluids, vehicle decontamination, odor removal, dangerous pathogens, decontamination, sanitizing, tear gas, drug labs, mold remediation, hoarding, rodent droppings, and specialized cleaning services that vary by location*.
We work with all insurance providers, are licensed, bonded, and insured. We handle your situation discreetly and empathetically. When you call T.A.C.T. for help, your call will be answered by an owner or manager, never a call center or answering service. Our technicians are certified and highly trained in the latest methods. If you are in need of emergency assistance to clean up following a traumatic event, call T.A.C.T. North Atlanta.
*Services offered vary by location
Latest news