What do professionals use to remove odors?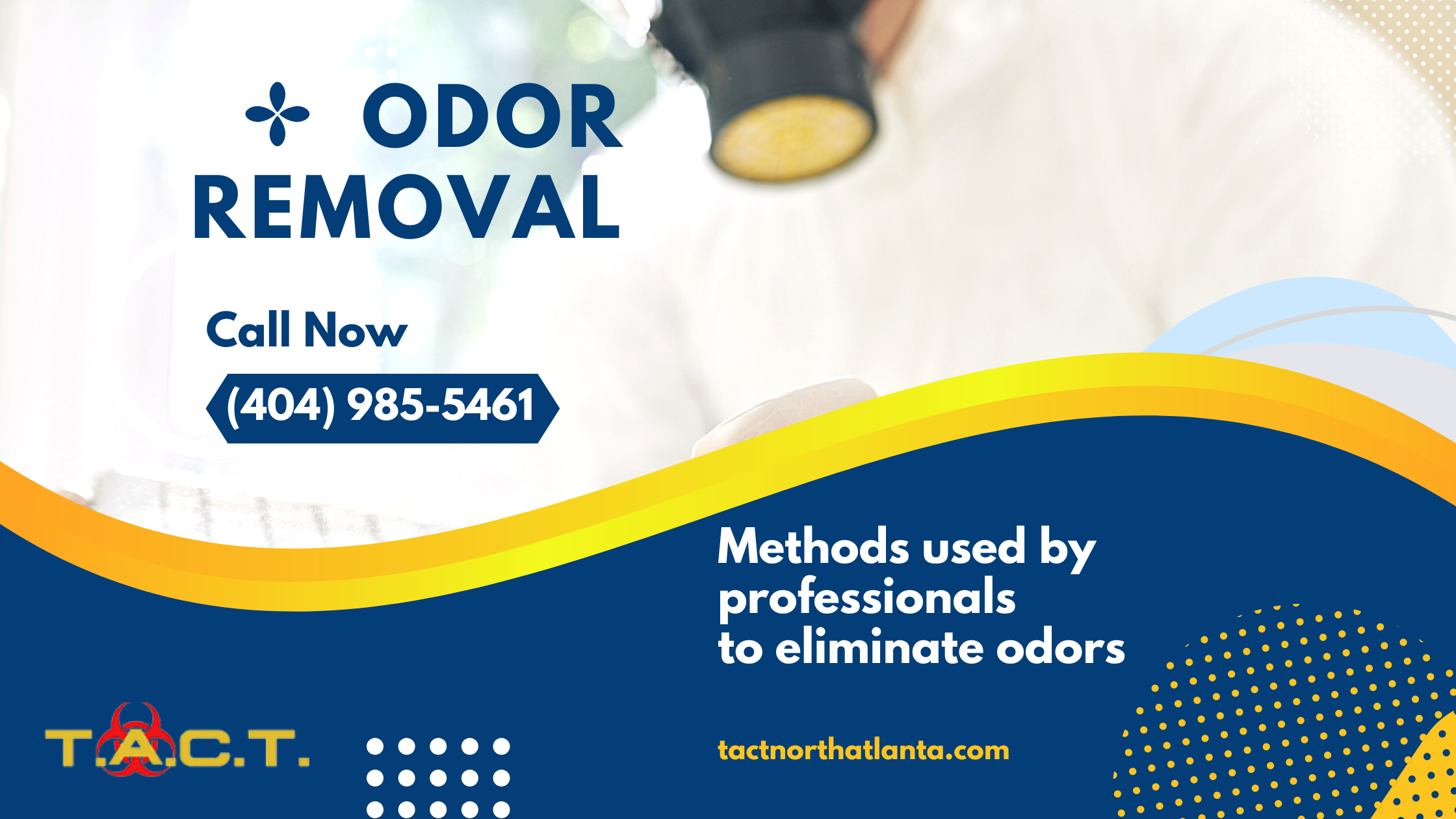 As a homeowner, you probably want to maintain a clean and fresh-smelling environment for the comfort and safety of your family. Unfortunately, odors from pet urine, cigarette smoke, cooking, mold, mildew, and even age tend to permeate everything over time. Unfortunately, these odors can be stubborn and challenging to eliminate.
This is where professional odor remediation services come in. Odor remediation is an essential component of property maintenance for commercial and residential buildings. DIY techniques, such as using air fresheners or deodorizers, only cover up the odor temporarily, allowing them to resurface again and again. To eliminate the odor for good, you need the services of a professional odor remediation company like T.A.C.T. of North Atlanta.
At T.A.C.T. North Atlanta, we offer comprehensive and cost-effective odor remediation services to help you eliminate persistent odors from your home. Our team of skilled and certified technicians use state-of-the-art equipment and advanced techniques to remove- not just cover up- all types of odors from the affected areas.
We use a variety of techniques and specialized equipment to remove odors from your home. Depending on the odors that you are dealing with, one or more of the following techniques might be used.
Chemical Neutralization: This method involves using chemical agents that react with odor molecules to neutralize them. The chemical neutralizers are odor specific.
CLO2 Fogging Method & Carpet Cleaning, Upholstery - CLO2 (chlorine dioxide) fogging penetrates surfaces, such as walls, floors, and furniture, to eliminate odors at their source. It is used to remove odors caused by pet urine, smoke, cooking, mold and mildew, and other organic matter.
CLO2 fogging is an effective method for odor removal because the gas reaches areas that are difficult to access with traditional cleaning methods, such as deep within porous materials like carpets and upholstery. It is considered an environmentally safe option, however it requires you to stay away from the treated area for 2-4 hours.
Hydroxyl Radical Treatment: This method uses hydroxyl radicals, which are highly reactive molecules that break down and eliminate odors, without the use of chemicals. While it is not not a new technology, the majority of odor removal companies do not use it because the equipment is cost prohibitive. T.A.C.T. North Atlanta is one of the only companies in Georgia utilizing hydroxyl radical technology for odor removal.
Hydroxyl radical treatment works better for removing odors than traditional chemical based methods, is not harmful to humans, pets or the environment, does not require you to vacate the premises during treatment, and is very efficient.
Enzymatic Cleaners: Enzymatic cleaners contain naturally occurring enzymes that break down organic compounds, such as pet urine, food spills, and other biological substances that cause odors.
Air Purification: Air purification systems, such as HEPA filters, can help remove airborne particles and odors from the air.
Ozone Treatment: Ozone treatment is commonly used for odor removal. Ozone generators are used to produce ozone gas, which breaks down odor-causing molecules into harmless compounds. The ozone gas is released into the affected area, where it reacts with the odor molecules and eliminates them. Multiple treatments are generally required and the property must be vacated for up to 10 hours. The chemicals used are harmful to humans, pets and the environment. We recommend following this treatment up with our professional cleaning services.
It's important to note that different types of odors require different methods of removal. Professional odor remediation companies, such as T.A.C.T. North Atlanta, have the knowledge and experience to identify the source of the odor and determine the most effective method of removal, using specialized equipment and methods.
We are bonded, insured, and a registered business with the State of Georgia for biohazard cleaning and odor removal. We proudly offer Senior and Military discounts. Get in touch with us today for a free quote and let us help you eliminate any embarrassing and unpleasant odors from your property, so you can enjoy a fresh, clean and healthy environment.
T.A.C.T. provides 24/7 emergency biohazard decontamination services for residents and businesses in the local communities that we serve. We specialize in clean up from suicides, homicides, crime scenes, trauma scenes, undiscovered death, blood spills, bodily fluids, vehicle decontamination, odor removal, dangerous pathogens, decontamination, sanitizing, tear gas, drug labs, mold remediation, hoarding, rodent droppings, and specialized cleaning services that vary by location.
We work with all insurance providers, are licensed, bonded, and insured. We handle your situation discreetly and empathetically. When you call T.A.C.T. for help, your call will be answered by an owner or manager, never a call center or answering service. Our technicians are certified and highly trained in the latest methods. If you are in need of emergency assistance to clean up following a traumatic event, call T.A.C.T.
Latest news